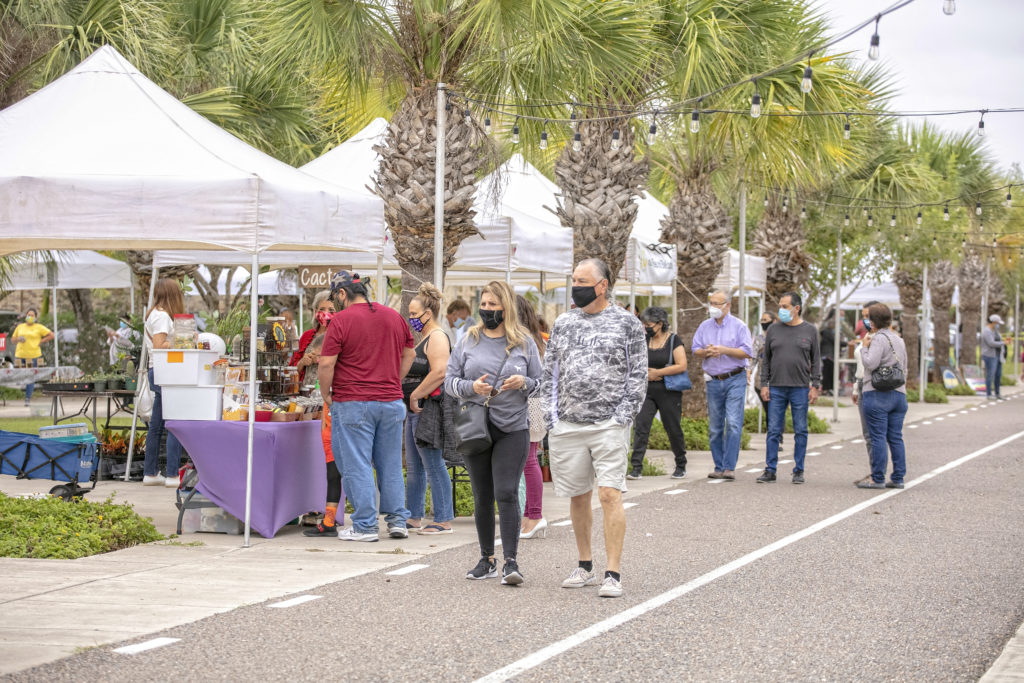 Brownsville Farmers' Market
OPEN SATURDAYS
09:00 AM - 12:00 PM
ABOUT
The Farmers' Market provides fresh produce in a food desert location, enhances the social aspect of building community, ensures access to local seasonal products in a low-income area of the city, and encourages entrepreneurship. Brownsville Wellness Coalition's Farmers' Market, a bi-cultural tourist destination is located in the Mitte Cultural District and is one of only three certified markets to accept SNAP and WIC vouchers in the Rio Grande Valley. This important designation creates inclusiveness and erases the stigma that farmers markets are for the affluent. The Market's location in a park and its setting along a walking trail invite physical activities. Free yoga, Little Pretzel yoga for kids, and gym boot camps take place every Saturday. Because this is also a pet friendly market, the entire family can spend quality time together in a healthful, supportive, and safe environment.
DID YOU KNOW?
The Brownsville Farmers Market is one of three Certified farmers markets in the RGV. Only products created within a 100-mile radius of Cameron County can be sold (some exceptions apply).
The Market is a producer-only market defined as a market in which all items sold/offered are made, baked, or prepared personally by the vendor. Some products are seasonal.

The Brownsville Farmers' Market is open to the public and dog-friendly. Dogs must be on a leash at all times. Please clean up after your dog(s).

Don't have cash? The Brownsville Wellness  Coalition offers "Market Cash." For a fee, BWC can swipe your ATM or debit card to offer Market Cash to spend at any BFM vendor.

Free fitness classes are offered most Saturdays before the Market opens. (Bring your own mat for Yoga.) No reservation needed.

The Market offers live music and other entertainment during most Market Saturdays. Musicians volunteer their time and talents. Tips appreciated.

The Market accepts SNAP and offers W.I.C. vouchers when available. Stop by the BWC table at the Farmers' Market for more information.
The Market is located on the Historic Battlefield bike/hike trail. Bike racks are available. Please bring your own bike locks, etc.
Contact Information
Brownsville Historic Battlefield Trail, Brownsville, Cameron County, Texas, 78520, United States